Situated just a stone-throw away from Tulum, in the lush landscape of the Yucatan Peninsula, Cenote Zacil-Ha offers visitors an unforgettable experience.
Compared to the other cenote situated near Tulum, Cenote Calavera, Zacil-Ha is much smaller and open. Not just is Zacil-Ha smaller in size, but its depth is on average only 3 meters. Its size should not deter visitors as the atmosphere here is always fun.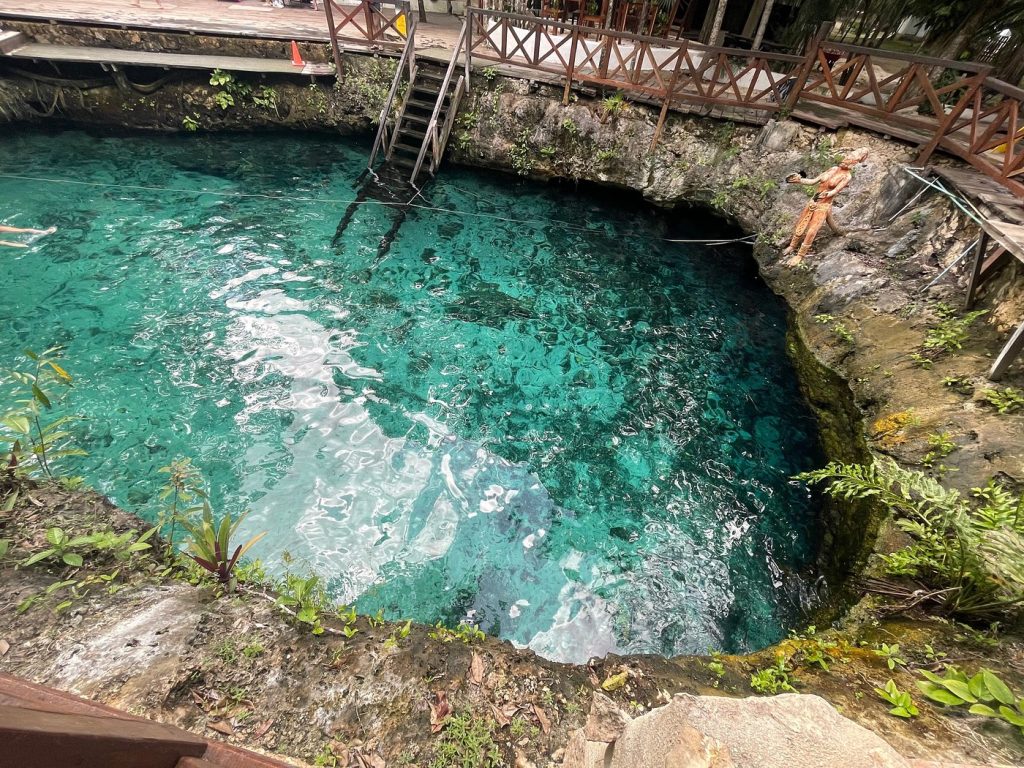 Getting There
Cenote Zacil-Ha is located just 8 kilometers (5 miles) west of Tulum along the Coba-Tulum road (Highway 109). Its proximity to Tulum makes it an easily accessible and popular spot for visitors.
To reach Cenote Zacil-Ha, you can rent a car, hire a taxi, or take a colectivo (shared van) from Tulum. If you opt for a colectivo, simply inform the driver that you wish to visit Cenote Zacil-Ha, and they will drop you off at the entrance. For those looking to combine a visit to the cenote with a trip to the ancient Mayan ruins of Coba, it's a convenient 45-kilometer (28-mile) drive from the archaeological site.
Things to Do at Zacil-Ha
Cenote Zacil-Ha offers plenty of relaxation but also some activities:
Swimming and Snorkeling: Dive into the cenote's refreshing, turquoise waters and discover the fascinating underwater world teeming with aquatic life. The crystal-clear water provides excellent visibility, making it an ideal spot for snorkeling and admiring colorful fish and unique rock formations.
Zipline Adventure: Add a dash of excitement to your visit with a thrilling zipline ride across the cenote. The zipline allows you to glide over the water, taking in the stunning views, before making a refreshing splash into the cenote below.
Lounging and Relaxing: Cenote Zacil-Ha is equipped with a deck area, sunbeds, and palapas, offering the perfect setting for sunbathing, picnicking, or simply unwinding amid the tranquil surroundings.
Opening Hours and Entrance Fee
Cenote Zacil-Ha is open daily from 9:00 AM to 5:00 PM, providing ample time for visitors to fully enjoy the cenote's enchanting environment. The entrance fee as of 2023 is 200 pesos.
Don't forget to pack eco-friendly sunscreen, insect repellent, a towel, and a reusable water bottle to minimize your environmental impact during your visit.
Cenote Zacil-Ha Map