Cenote Kin Ha offers visitors crystal-clear waters that can be reached on wooden stairs.
Cenote Kin Ha is located near the town of Puerto Morelos, approximately 40 kilometers (25 miles) south of Cancun and 30 kilometers (19 miles) north of Playa del Carmen. It's easily accessible by car, with the drive taking around 30-45 minutes from either city.
To reach the cenote, you'll need to take the Ruta de los Cenotes (Cenote Route), a well-marked road that connects the main highway (307) to the various cenotes in the region. Look for signs directing you to Cenote Kin Ha, which is situated 18 kilometers (11 miles) down the Ruta de los Cenotes.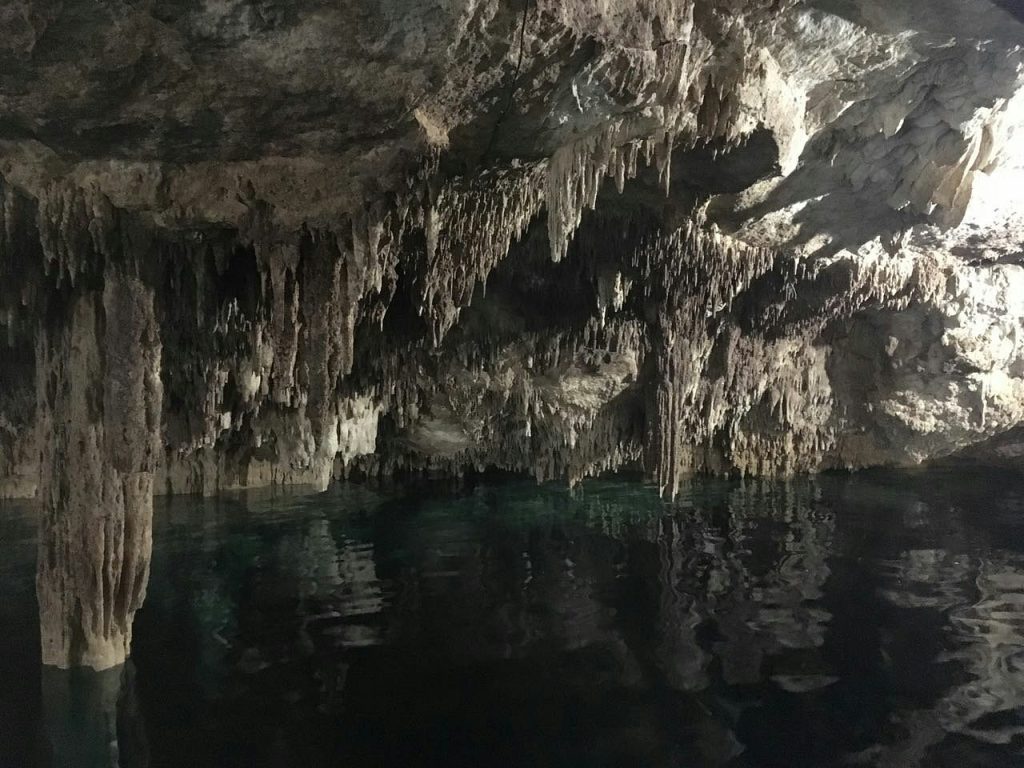 Facilities and Amenities
Cenote Kin Ha boasts well-maintained facilities, ensuring a comfortable visit for travelers. Amenities include:
Parking area
Restrooms and changing rooms
Life jackets for rent
Snorkeling equipment for rent
Small snack bar with refreshments
Zipline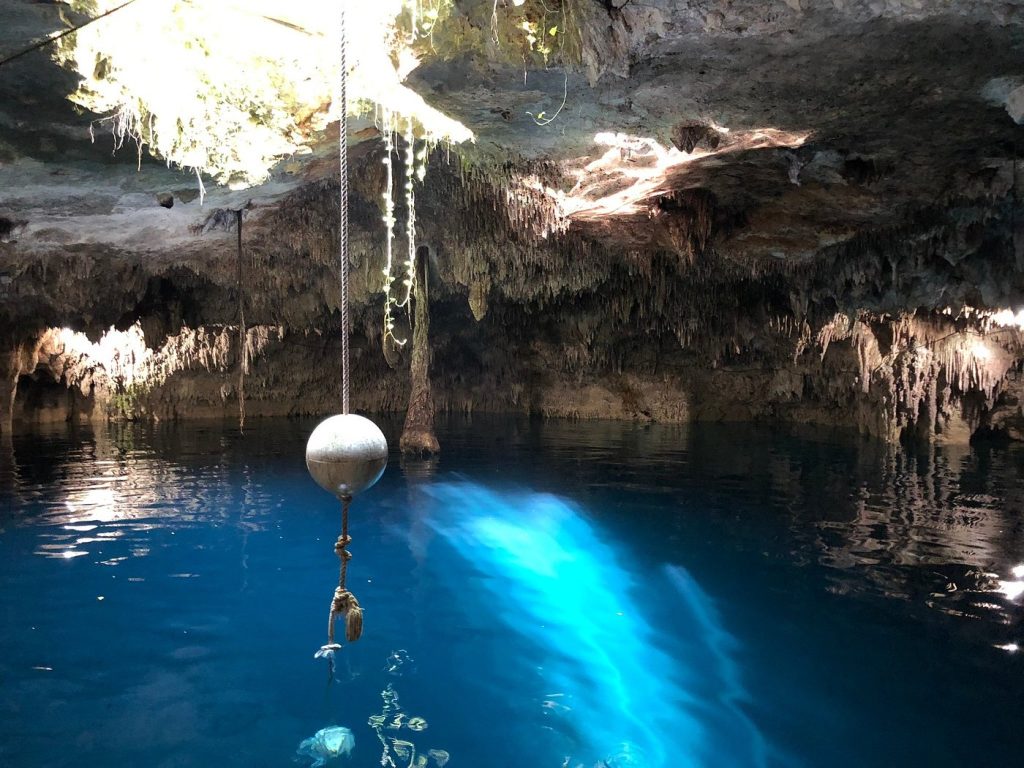 Things To Do at Cenote Kin Ha
At Cenote Kin Ha, visitors can indulge in a variety of activities, making it a perfect destination for adventurers and nature lovers alike. Some popular activities include:
Swimming: The crystal-clear waters of Kin Ha provide a refreshing swim, with a depth of approximately 45 meters (148 feet). Life jackets are recommended for those who aren't confident swimmers.
Snorkeling: Rent snorkeling gear on-site to explore the underwater world of the cenote. You'll encounter colorful fish, unique rock formations, and even submerged tree trunks.
Rappelling: For adrenaline junkies, Cenote Kin Ha offers the opportunity to rappel down into the water from a height of about 20 meters (65 feet). This activity is led by experienced guides, ensuring a safe and exciting experience.
Best Time to Visit
Cenote Kin Ha can be visited year-round, with the dry season (December to April) offering the most pleasant weather. During the rainy season (May to November), the cenote may be less crowded, but you might encounter some showers. Visiting on weekdays and early mornings can help you avoid crowds and enjoy a more peaceful experience.
Safety Precautions
While Cenote Kin Ha is generally safe, it's essential to adhere to a few safety guidelines:
Always follow the posted rules and guidelines at the cenote.
Do not dive or jump from unauthorized areas.
Wear a life jacket if you're not a strong swimmer.
Avoid touching or disturbing the natural formations or wildlife.
Keep an eye on your belongings and use the provided facilities to store your valuables.
Kin Ha Cenote Price and Opening Hours
An entry ticket cost $15 USD for adults.
Cenote Kin-Ha is open daily from 9:00 AM to 20:00 PM.
Generally, there are no crowds here, but if you want to avoid them in high season, go either early in the morning or after 3 PM.
Cenote Kin Ha Map