Cenote Jardin del Eden (Cenote Eden Garden) certainly lives up to its name. Also known as Cenote Ponderosa, this open-air cenote is a veritable paradise that entices visitors with its crystalline waters, fascinating underwater world, and breathtaking surroundings.
As you dive into the pristine waters of Cenote Jardin del Eden, you'll be transported to a realm of enchantment, complete with lush vegetation, dramatic rock formations, and dappled sunlight filtering through the trees above. The cenote, with depths ranging from 3 to 15 meters (10 to 50 feet), offers a haven for swimmers, snorkelers, and divers alike, providing the opportunity to marvel at the vibrant aquatic life and striking underwater scenery.
Cenote Ponderosa is different from other cenotes as it is completely open and quite large, it resembles a huge pool rather than a cavern.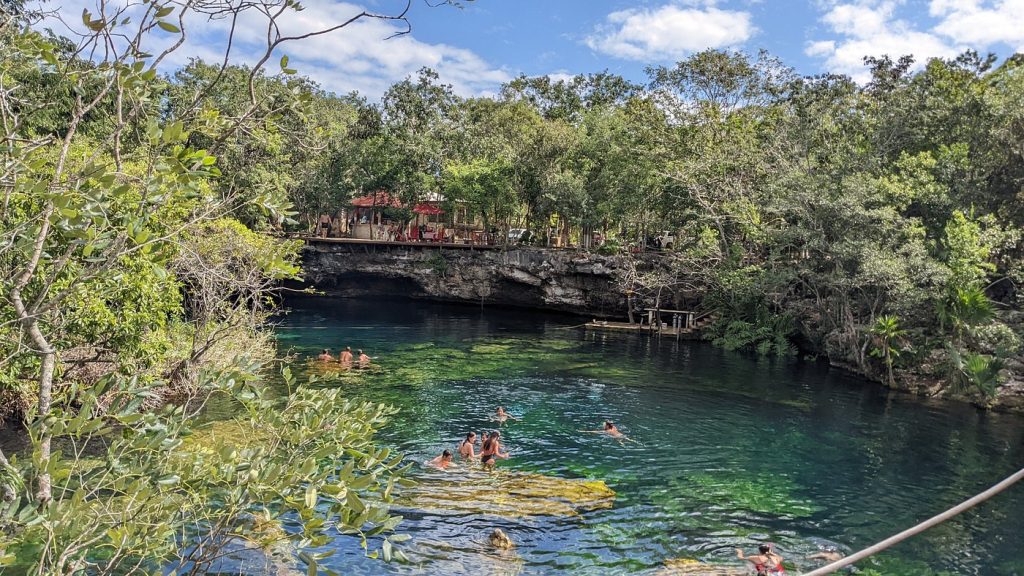 How To Get There
Nestled between Playa del Carmen and Tulum, just off the main highway, Cenote Jardin del Eden is a serene escape from the bustling tourist destinations nearby. Located conveniently just 1 km from the popular Cenote Cristalino, and off Highway 307, it can be reached through various modes of transportation.
By car: Renting a car provides the most flexibility to explore the Riviera Maya at your own pace. From Playa del Carmen, head south on Highway 307 for approximately 22 kilometers (14 miles). From Tulum, head north on the same highway for about 43 kilometers (27 miles). In both cases, you'll find the entrance to Cenote Jardin del Eden clearly marked by signs along the highway.
By taxi or private transfer: If you prefer not to drive, you can hire a taxi or arrange a private transfer from Playa del Carmen, Tulum, or nearby areas. This option offers a comfortable and convenient way to travel.
By colectivo or shared van: For a more budget-friendly option, take a colectivo (shared van) from either Playa del Carmen or Tulum. Colectivos usually run along Highway 307, and you can ask the driver to stop at Cenote Jardin del Eden. This transportation mode is popular among locals and tourists but may require some flexibility with departure times.
Guided tour: Another option is to join a guided tour that includes transportation to and from Cenote Jardin del Eden, as well as other nearby cenotes or attractions. These tours often depart from popular tourist hubs such as Cancun, Playa del Carmen, or Tulum, and provide a comprehensive experience, complete with knowledgeable guides and sometimes meals or equipment rentals.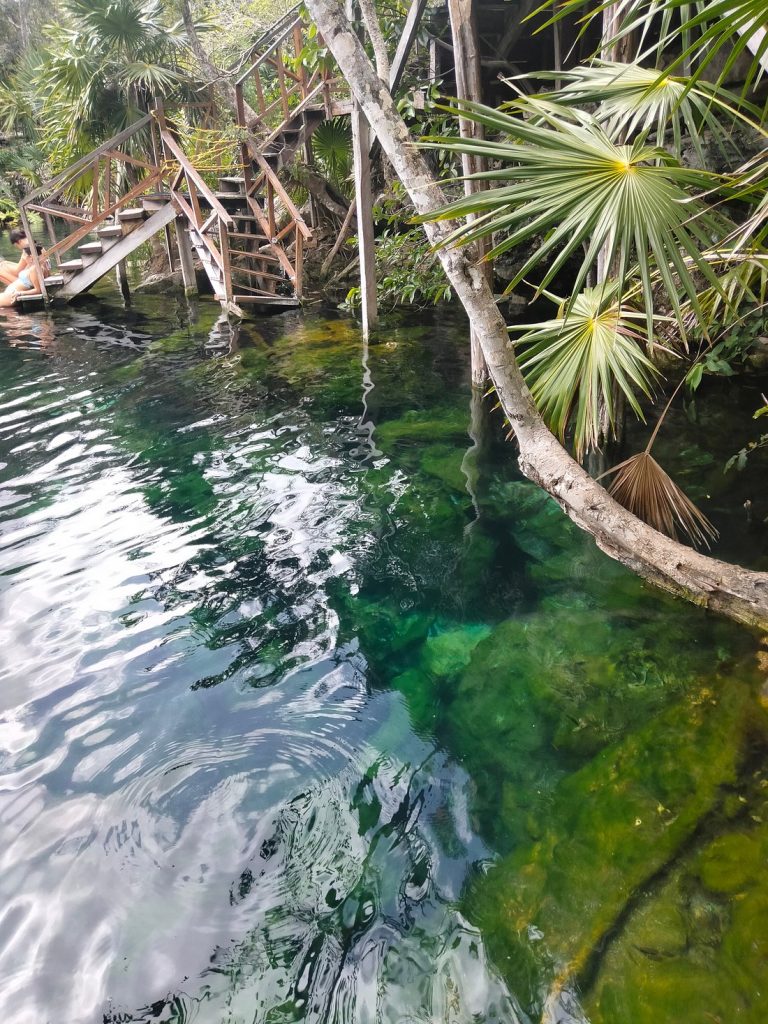 Opening Hours and Prices
The cenote is open every day except on Saturdays from 9:00 AM to 5:00 PM.
An adult ticket costs 100 Mexican pesos.
Cenote Jardin del Eden Map