The Yucatan Peninsula is home to some of the most breathtaking cenotes, and Cenote Chikin Ha is no exception. Located near Playa del Carmen, this magnificent natural wonder offers visitors the opportunity to explore an underwater paradise and enjoy a memorable adventure.
https://www.getyourguide.com/puerto-morelos-l112372/cancun-buceo-en-cenote-puerto-morelos-t455237/
Chikin Ha Prices
Admission to Cenote Chikin Ha is included in the entrance fee to the Chikin Ha Eco-Park. As of 2023, the general admission price was approximately $35 USD per person (650 MXN). This price includes access to the park, guided tours, as well as access to the zipline, and snorkeling gear.
Cenote Chikin Ha Location
Cenote Chikin Ha is situated approximately 25 kilometers (15.5 miles) southwest of Playa del Carmen, in the heart of Mexico's Riviera Maya. To reach the cenote, visitors can rent a car, take a taxi, or join an organized tour. The cenote is easily accessible via 307 Highway which connects Playa del Carmen to Tulum, making it a popular stop for travelers exploring the region's numerous attractions.
In the Mayan language, "Chikin Ha" means "Small Western Water." The name reflects the cenote's location.
Cenote Chikin Ha is an open cenote, characterized by its crystal-clear turquoise waters, fascinating underwater caves, and lush vegetation. The water's visibility and depth make it an ideal spot for snorkeling and scuba diving, allowing visitors to explore the underwater beauty and admire the various species of fish and turtles that inhabit the cenote.
In addition to swimming and snorkeling, guests can explore the cenote's surroundings, which include impressive stalactite and stalagmite formations, as well as a fascinating cave system.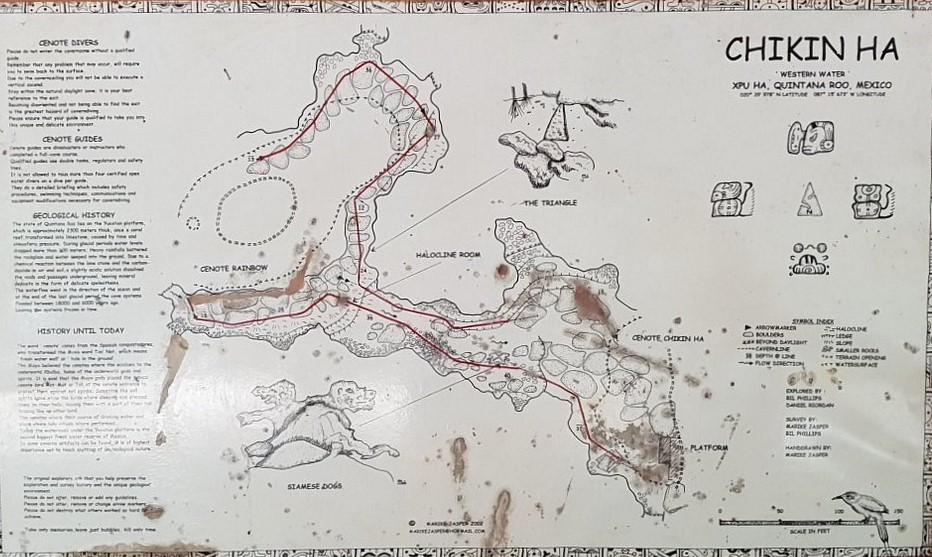 Cenote Chikin Ha Map